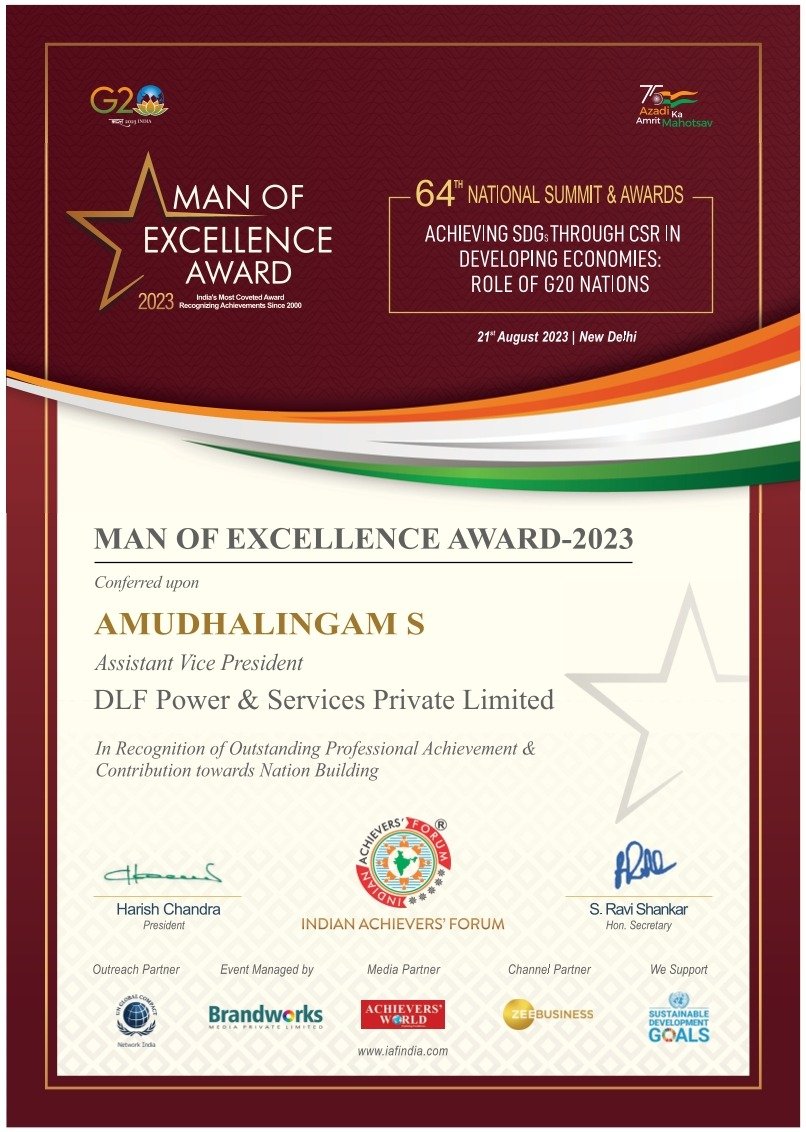 A Beacon of Excellence in Structural Engineering
Amudhalingam, a distinguished professional with more than two decades of experience in structural engineering design consultancy, stands as a shining example of excellence in his field. His remarkable journey is a testament to his unwavering commitment to excellence, technical expertise, and exceptional business acumen.
As a Chartered Engineer and Fellow of the Institute of Engineers (India), along with being a Solar Chartered Engineer from SESI, Amudhalingam's career embodies the fusion of technical mastery and visionary leadership.
Amudhalingam embarked on his journey with an unwavering commitment to excellence, quickly setting himself apart with his technical prowess and meticulous attention to detail. However, what truly distinguishes him is his role as a Subject Matter Expert (SME) in value engineering solutions for complex structural challenges. His innovative thinking and analytical acumen consistently deliver cost-effective, high-quality solutions.
Beyond his technical brilliance, Amudhalingam possesses a unique blend of skills that have propelled him to the pinnacle of his profession. His ability to conceive, plan, and execute intricate business strategies underscores his astute business acumen. He excels in adeptly managing projects, ensuring they adhere to budgets and timelines. His innate ability to coordinate stakeholders effectively, uniting them under a common vision, stands as a hallmark of his leadership. Cultivating high-performing teams and inspiring them toward excellence is an art he has perfected over the years.
Amudhalingam's journey serves as a wellspring of inspiration for budding professionals in the structural engineering domain. His career epitomizes the boundless possibilities that arise when technical mastery converges with visionary foresight.
Throughout his illustrious career, Amudhalingam has received numerous awards and accolades, including Inspiring Personality of the Year (2019), Most Promising Young Talent (2019), Outstanding Performer of the Year (2015), Best Team Leader – Structures (2011), Client Preferred Structural Engineer (2007), and Engineer in Demand – Structures (2006).
Amudhalingam's legacy transcends the organizations he has served. His capacity to innovate, lead, and drive change has been instrumental in propelling the field forward. His journey serves as a guiding star for professionals aspiring to achieve excellence in structural engineering and leadership. His enduring impact continues to shape the industry, leaving an indelible mark for generations to come. Amudhalingam, truly a man of excellence, exemplifies the heights that can be reached when dedication and expertise intersect in the world of structural engineering.