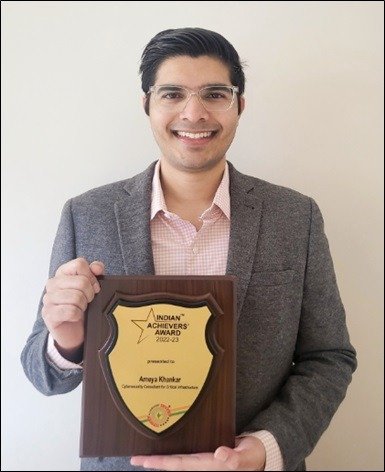 Ameya Khankar: An Internationally Acclaimed Cybersecurity Specialist Revolutionizing Cloud Access Controls And Transforming Critical Infrastructure Industries
In the realm of swiftly-evolving technology, only a select few individuals ascend beyond the ordinary and forge their path as paramount visionaries in their domain. Ameya Khankar stands tall among these individuals—a luminary, renowned on a global scale, and held in the highest regard as a cybersecurity expert. With profound impact in the area of cloud transformation and access controls for healthcare organizations, Ameya has left an indelible mark upon the fabric of this specialized sphere. Through a multitude of triumphant endeavors and an expansive reservoir of expertise, Ameya Khankar has firmly cemented his position as a beacon of innovation, guiding the industry forward. Ameya's extraordinary aptitude and unwavering commitment to his craft has garnered universal acclaim and esteem, casting his influence across borders and earning him prestigious accolades of unparalleled magnitude in the area of cybersecurity for critical infrastructure.
Ameya Khankar has accomplished remarkable feats, notably clinching renowned accolades such as the Indian Achiever's Award and several other world renowned awards. He has been published in many renowned national and international publications where his thought leadership recommendations have been adopted across various critical infrastructure industries. Regarded as an authority in the cybersecurity field, Ameya has served as a judge for esteemed competitions across the world.
Ameya Khankar is a respected and reliable expert in business technology and cybersecurity, specializing in technology risk, enterprise transformations, cloud access controls, and digital governance. With a wealth of experience, Ameya provides valuable guidance to large global enterprises in the US and across the globe, offering expert insights on technology risks and strategies to enhance their cybersecurity defenses. Ameya has successfully assisted a multi-billion dollar organization in defining their business transformation enterprise security strategy in the past. Ameya is also engaged in advising a global multi-billion F500 organization, helping them navigate complex digital transformation challenges while meeting stringent cybersecurity regulatory requirements.
Ameya's influence on cybersecurity has left a lasting impression on aspiring cybersecurity professionals. His work has significantly shaped the industry, with notable novel advancements in taking an agile approach to cloud transformation and enhanced cybersecurity access controls for healthcare organizations. He has pioneered the adoption of an agile approach to cloud transformations, revolutionizing the way healthcare organizations navigate their cloud migration journeys with a focus on access controls. His innovative methodologies and strategies have empowered businesses globally to seamlessly transition to cloud environments while optimizing agility, efficiency, and scalability.
Ameya has also played a crucial role in bolstering controls specifically tailored for healthcare organizations. Recognizing the unique challenges and sensitive nature of critical infrastructure data, he has devised comprehensive cybersecurity frameworks and best practices that address the evolving threat landscape. His frameworks have been widely adopted across various industries including technology, telecommunications, energy and a particular focus in healthcare. His novel contribution around designing cloud security frameworks has quickly become the new baseline standard amongst the healthcare industry through widespread adoption by various healthcare organizations. Ameya's expertise has provided healthcare organizations with the necessary tools and insights to safeguard their critical information assets effectively. His contributions have cemented his reputation as a thought leader and a driving force in the cybersecurity industry.
Ameya's expertise and knowledge have garnered significant attention, leading to his involvement as a distinguished thought leader at highly selective international organizations. Through these engagements, he has shared invaluable insights and best practices, enriching the industry. As a recognized authority in the field, he continues to shape the future of the cybersecurity industry, inspiring others to excel. His expertise has been sought after by various experts and professionals in the cybersecurity field, further amplifying his influence and impact within the industry.
Overall, Ameya Khankar's achievements and expertise have solidified his status as a globally recognized and respected cybersecurity professional. His contributions, leadership, and unwavering commitment to cloud journeys and access controls continue to shape several critical infrastructure industries and inspire others to reach new heights.