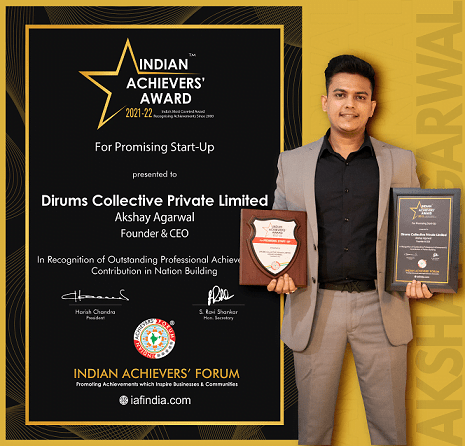 The Small Town Startup- Which is bridging the Global Gap between Artists and Art lovers.
Stepping off the desk and chair work, and looking towards India's progress on art, the entrepreneur from small city Jamshedpur dreams of coming up with a startup that is beneficial for the skillful people of all levels. Mr. Akshay Agarwal, XLRI alumni started Dirums.com with a dream to make India a new Art Capital of the world. Dirums.com is an art selling online marketplace that brings out artworks from different corners of the country that will suit your walls the uttermost along with giving a platform to the artist to emerge and showcase their hidden skills. The pandemic ended up being a big backlog for the commercial aspects of the country and many people found it difficult to get work, especially the artisans who are totally dependent on offline sales. Dirums provide an opportunity for the artisans to directly communicate with the customers as per their wants. It provides a bridge between the buyer and the seller avoiding the third person intervening in the between. 
One also gets the opportunity to get artworks done as per their desire and not force themselves to buy according to the availability. It provides artists to showcase their works of all genres, designing, and patterns along with coming up with the artworks of the tribal communities who have the hidden skills in them.  Dirums provide you with complete data about the artwork you purchase, the concept behind it, the back story, and its artist's profile in just a mouse click while sitting comfortably on your couch. The company has managed to come up with a commendable number of original yet affordable artworks curated by expertise with its range exceeding in the varied genre including different cultures and styles to condemn all sorts of the audience as well as their expectation. One also gets a chance to speak out about what they fascinate to adorn their walls with and get it done by a proficient artist. Akshay's motive is to give a fair opportunity to come up with their creativity to every deserving artist in a very reasonable means within the country itself along with providing the art lovers the piece of their desired imagination with ease.