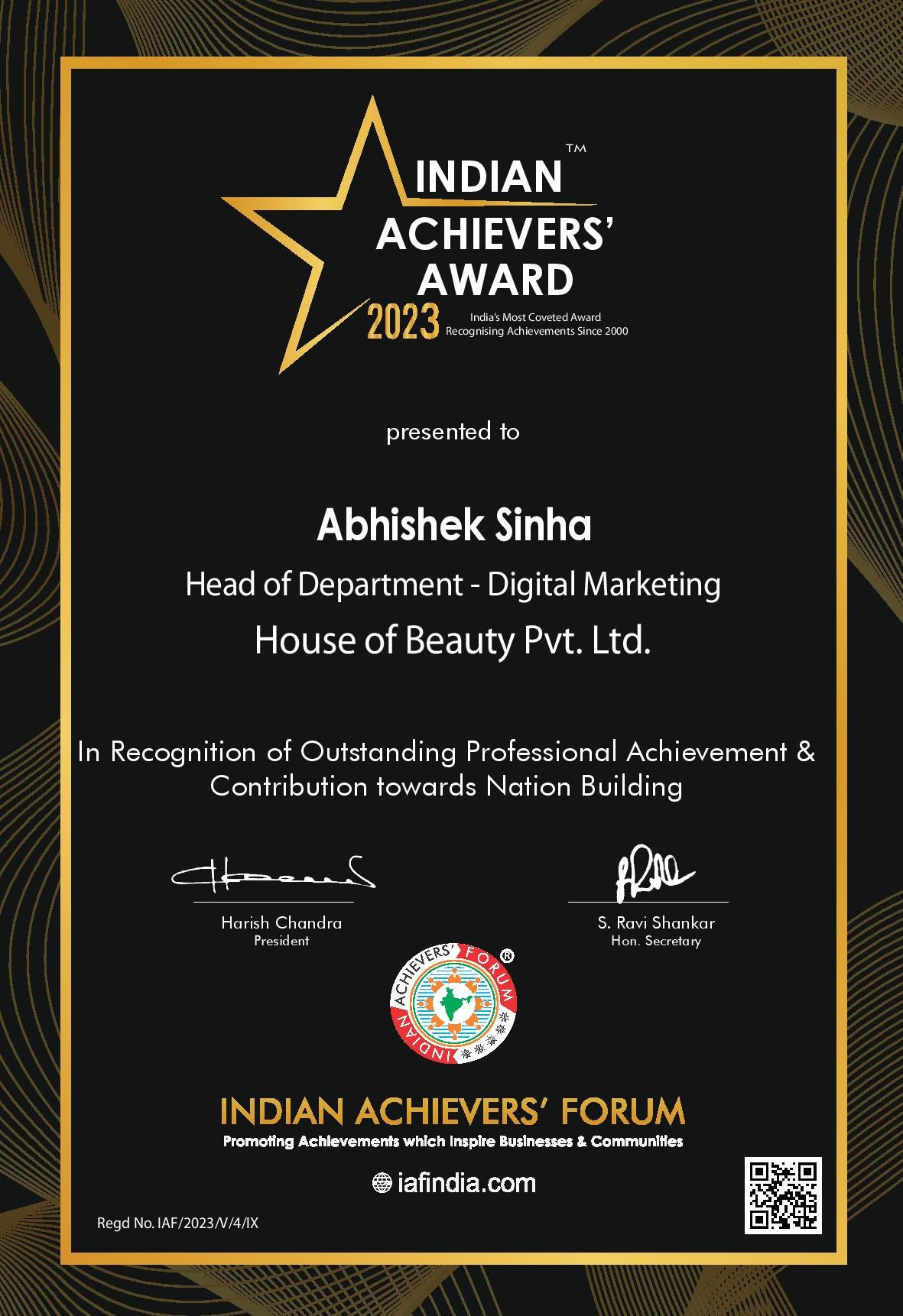 Abhishek Sinha: A Trailblazer in Digital Marketing and CX Leadership
Abhishek Sinha is a seasoned Digital Marketing Professional with over 13 years of experience possessing outstanding knowledge, unrivalled work ethics, and innate ability to thrive in dynamic and fast-paced digital environments and have consistently delivered exceptional results across diverse domains. His recent recognition at the 10th World CX Summit 2023 as one of the top 100 CX leaders in India is a testament to his relentless pursuit of excellence in the field of revolutionizing customer experience through continuous experimentation leveraging digital transformative initiatives including AI, deep learning and data sciences. This prestigious accolade highlights his outstanding achievements and significant contributions in the field of digital transformation.
Known for his expertise in search engine marketing, social media marketing, e-commerce marketing, retention marketing, seo, media buying, web analytics, email marketing, and content marketing, Abhishek has consistently delivered exceptional results and set new industry standards through his 360 view of e-commerce, specializing in onsite merchandising, crm and performance marketing. He is known for thriving in dynamic, challenging, and fast paced professional environments,with an assertive and enthusiastic approach to his work. Throughout his illustrious career, Abhishek has worked with renowned organizations, leveraging his digital marketing prowess to drive transformative growth.
His achievements include:
Driving eCommerce Success:
Abhishek has played a crucial role in delivering key success metrics for eCommerce giants such as Amazon and eBay in the North American region, as well as leading fashion platforms like Jabong and Utsav Fashion in India. Through his expertise in onsite merchandising, CRM, and performance marketing, he has significantly improved customer experiences and boosted sales.
Redefining Beauty Retail:
Abhishek's strategic vision and expertise in the beauty sector has played a pivotal role in driving  remarkable achievements for House of Beauty, thereby solidifying Boddess.com and Boddess retail stores  as an emerging experiential destination in the beauty industry.
Amplifying Brand Visibility:
With his strategic approach to social media marketing, Abhishek has successfully elevated the online presence of brands across diverse industries. His collaborations with companies like OPPO Mobiles, Glenn Appliances, and Robobull have resulted in increased brand visibility, customer engagement, and market share.
Transforming Travel Experiences:
Abhishek has worked closely with prominent travel brands such as Yatra.com and The LaLiT Hospitality Group, leveraging digital platforms to enhance customer experiences and drive bookings. His expertise has contributed to the growth of online travel portals, making them go-to destinations for travel enthusiasts.
Driving Automotive Engagement:
Collaborating with automobile giants like Chrysler and Ford, Abhishek has implemented innovative digital marketing strategies to engage consumers and promote their products and services effectively. His contributions have helped automotive brands establish a strong online presence and drive sales.
Innovating in BFSI:
In the BFSI domain, Abhishek has partnered with leading financial institutions including Citigroup and JPMorgan Chase, harnessing digital marketing strategies to expand their customer base and drive business growth. His contributions have played a key role in boosting customer acquisition and enhancing brand loyalty.
Revolutionizing Real Estate Marketing:
Abhishek's expertise has also made a significant impact in the real estate sector, working with brands like Ashiana Housing, Eden Group, and Sikka Group. Through effective digital marketing campaigns, he has generated leads, increased brand awareness, and facilitated successful property sales.
Abhishek Sinha's ability to deliver exceptional results across diverse industries is a testament to his expertise, unwavering work ethics, and innovative mindset. As Abhishek continues to push boundaries in the digital marketing landscape, his achievements serve as inspiration to aspiring professionals and a testament to the transformative power of strategic and customer-centric digital marketing approaches.