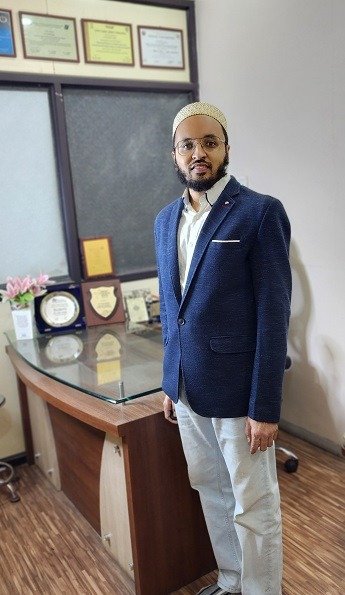 "In Pursuit of Surgical Excellence and Compassionate Care"
Dr. Yusuf Saifee is a Consultant Urologist and kidney transplant surgeon practicing for more than ten years and having a large experience of over 10000 surgeries. He is a consultant at Vishesh- Jupiter Hospital, Indore. He is also Honorary Visiting consultant at Saifee Hospital,  Mumbai. He is a versatile surgeon with rich experience across a gamut of Urological Surgeries, including endoscopic laser surgery for kidney stones, and endoscopic surgery for prostate and urine problems. laparoscopic and robotic surgery for urological cancers and kidney transplantation
Dr. Yusuf Saifee received his medical education and extensive surgical experience from various premier institutes situated in New Delhi & Ahmedabad (1998-2016). He is a Gold Medalist and recipient of multiple awards, honors, and international fellowships.
Dr. Yusuf Saifee was one of the few urologist from India to be selected for advanced training in laparoscopic and robotic surgeries for kidney and prostate cancers at Jikei University Hospital, Japan, and Guys Hospital, London.
He has presented and published many scientific research papers at various national and international forums. Along with world-class surgical experience, Dr. Yusuf's compassionate and caring approach makes him one of the most sought-after urologist in India.
As a doctor, it's his constant pursuit, to improve his knowledge and skills in medicine, especially in the field of minimally invasive surgery in urology and to make the cutting edge techniques more accessible to common people. This has been the driving force behind everything that he has done in his career so far.
He grew up in a small city in India, topped medical entrance examination and subsequently got admission at premiere Medical Colleges of India. He was awarded Gold Medal by University of Delhi for the best outgoing surgical resident in 2007.
After MS, he joined the Urology department at Sir Ganga Ram Hospital at New Delhi(2008-2011). During Surgical residency, he got basic exposure in all aspects of urological surgery.  But soon, he realized that one can't claim to be masters at all aspects of the chosen specialty. Patients need to get the best and only that can be provided by those trained extensively in that area. So, he decided to pursue for his subspeciality of interest- endourology, Laparoscopy & Kidney Transplant. He joined Institute of Kidney Diseases and Research Center and Dr. H.L Trivedi Institute of Transplantation Sciences (IKDRC) as Assistant Professor and consultant. IKDRC, is a high-volume tertiary care center, recognized worldwide for advanced. Urological surgery. Working at IKDRC from 2012-2016 helped him to gain significant expertise in  endoscopic, laparoscopic kidney transplant surgery.  He received Urological Association of Asia(UAA) Urology Travelling Fellowship for the year 2015  to attend 13th UAA congress in Shanghai, China and UAA Scholarship for the year 2019 for Clinical Visit at Jikei University School of Medicine, Tokyo, Japan. He was one of the few urologists worldwide to get selected for the prestigious European Urology Fellowship Program, that allowed him to visit King's college & Guys Hospital in London. U.K, which is Mecca of robotic Uro-oncological surgery at United Kingdom. These international visits and fellowship allowed him to update his skills and knowledge and gain global perspective in Urology.