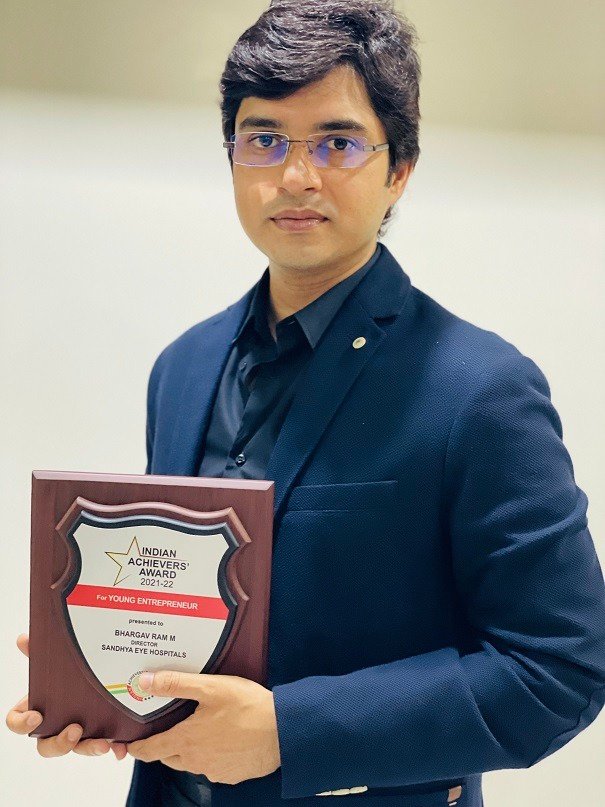 Dr. Bhargav Ram Munagapati's exemplary Leadership and result-oriented Achievements stand remarkable
Dr. Bhargav Ram Munagapati, Director, Sandhya Eye Hospitals, is a Service oriented administrator, recognized amongst peers as a strong team builder who adopts a collaborative approach with staff at all levels to exceed customer expectations. He has been working with the hospitals handling operations, expansions and business development areas and is responsible for the leadership and management of the Hospital branches.
After taking charge as the director of Sandhya Eye Hospitals, under his guidance and leadership, the Hospitals launched Project VISION NEXT, which screened around 35000 children in the rural areas. He played a key role in expanding the hospital in Andhra Pradesh with 3 main centers and 3 vision centers. He, through his strategies made sure that there is increased customer satisfaction, all well-maintained and also made sure that there is nurtured key client relationship. The hospital prepared and distributed customer correspondence within strict deadlines. He was responsible for organizing Primary Eye care awareness programs for rural medical practitioners and educational programs for Students on latest techniques in Eye care services. The Hospital, under his leadership, organized free camps for rural communities as and when required.
His responsibilities also include overseeing the planning, implementation and evaluation of the hospital programs and services as the hospital conducts programs like CMEs, camps at schools, temples, and villages and ensure that the programs and services offered by the hospital contribute to the hospital's mission. Some of the domains Dr. Munagapati is best known for his professional responsibilities are Leadership, Program planning and management, Human resources planning and management, Development of job description for staff, Financial planning and management, Patient Safety, Community relation, Overseeing the planning, implementation, execution and evaluation of special projects.