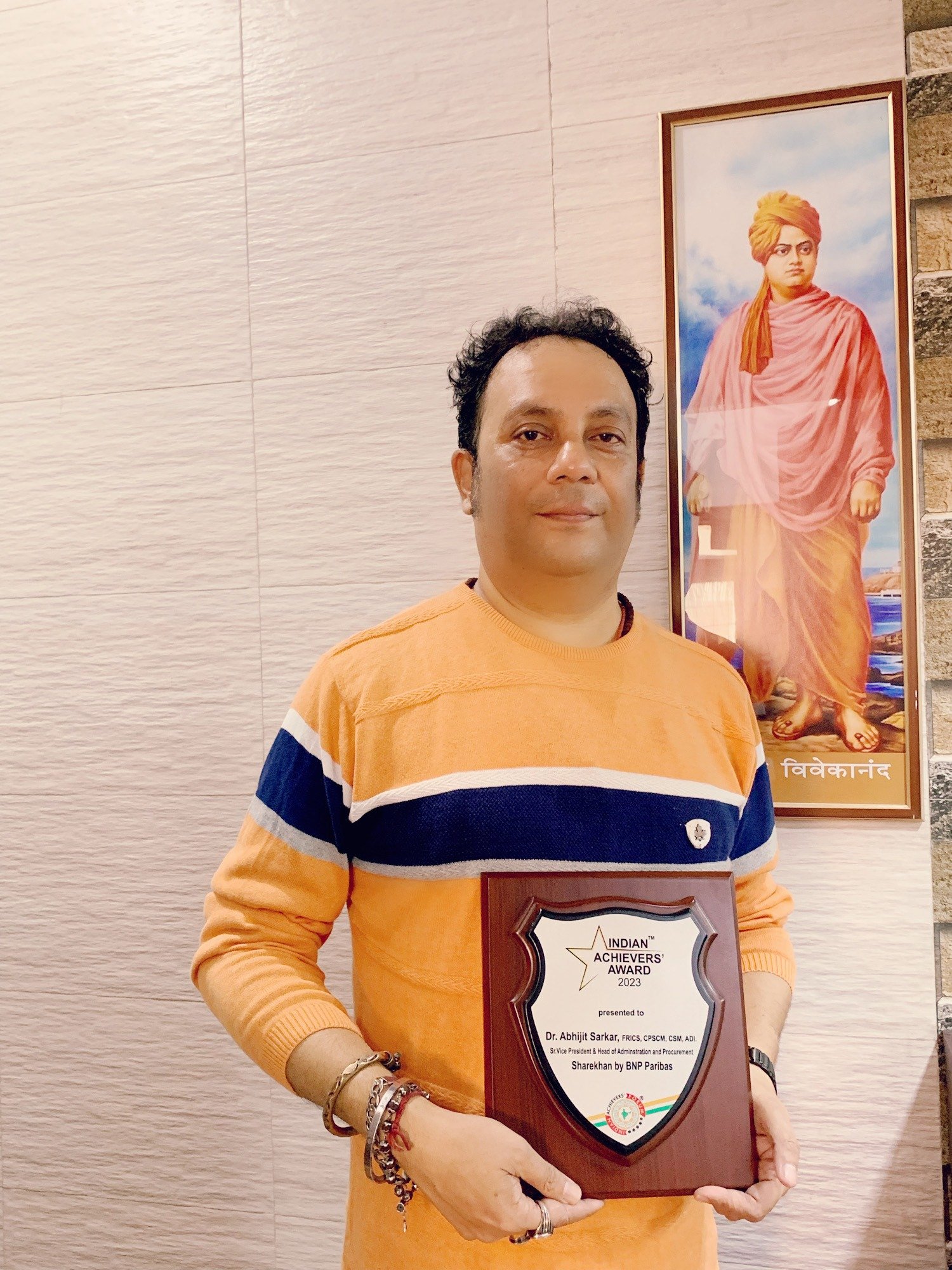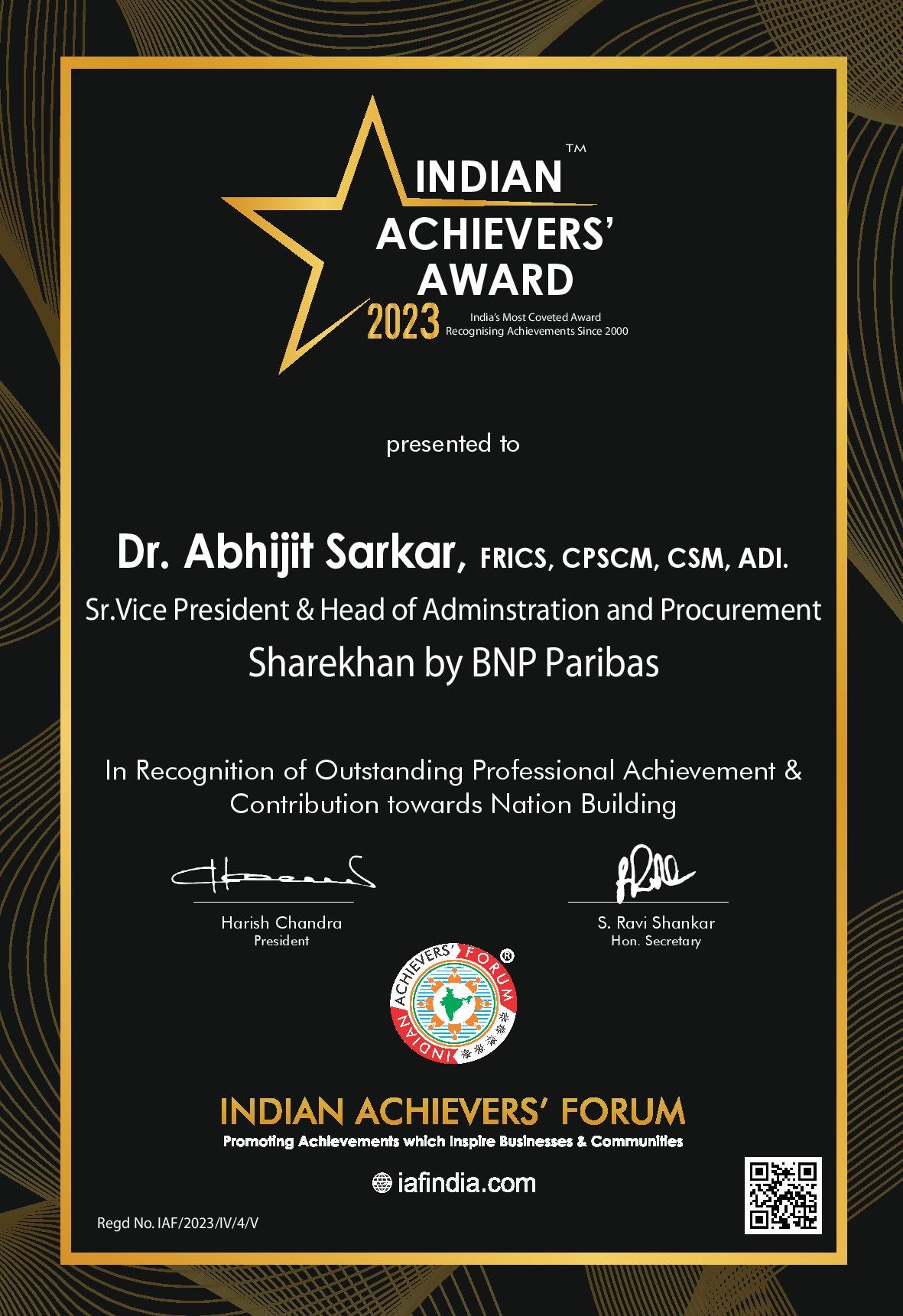 Leadership is established on trust and mutual respect
As a leader, Dr. Abhijit Sarkar has always believed that all leaders should have confidence in their leadership abilities. The only way to inspire others is to understand what motivates them, which requires empathy. He has always believed that we do not choose who we lead; rather, the people choose us as leaders if they believe and trust us, because if there is mutual respect and trust, the necessary link will be established to practise leadership. He is a public and prominent figure in the fraternity who has made a significant contribution to the industry by participating in industry bodies, business conferences, and other venues that enabled him to share his knowledge, expertise, and vision for the industry's improvement.
Dr. Abhijit Sarkar is presently working at Sharekhan Ltd, a subsidiary of the French multinational bank BNP Paribas. He is the senior vice president and country head for administration and purchasing. Regarding his credentials, he holds an MBA in Human Resources, a Bachelor of Commerce, a Doctorate in Management Studies, a degree in Interior Design, a Certified Sig Sigma Black Belt, a Certified Procurement and Supply Chain Manager, and a Certified Scrum Manager certification. He has also been a fellow with the Royal Institute of Chartered Surveyors of London, a Member of Leaders Excellence, Harvard Square, and a Certified Green Building Professorial from the Assocham Gem Green Building Council.
Dr. Abhijit is Core Administration, Procurement, and Infrastructure Personnel, as well as an eminent Speaker with a solid reputation within the community. Among his many achievements in the field is his selection as a core member of the Group Admin Forum established by ICICI Bank. In addition, he has received numerous accolades from the community for his various contributions. He has held leadership positions in prominent organisations such as ICICI Securities, TNT India, Bombay Dyeing, and Piramals, and has been recognised by each.
Furthermore,  he serves as an Honorary Board Member on the board of iNFHRA, an industry body and member-based non-profit association working towards the improvement and promotion of the Facility Management, Administration, Travel, and Corporate Real Estate community. In addition, he serves as a member of the advisory board for Indian Institute of Business Management and Studies, International B School of Management Studies.
He is affiliated with the Central Leadership of GACS, also known as the Global Association for Corporate Services, an organisation comprised of leaders in the field of corporate services from around the world. This is a forum of working professionals from various areas of corporate services, offering its members opportunities for Knowledge Management, Crisis Support, and Networking. This domain's larger function is to provide governance support structure and guidance to various government and non-government organisations in order to make ease of doing business more realistic and attainable.
Dr. Abhijit has been a speaker at a number of conferences and seminars for the Admin & Facility,Infrastructure,Travel,Security,Technology,Real Estate, and procurement fraternity, where he has shared best practises and industry trends.
He has been contributing articles on Facility Management, Travel, Infrastructure, Procurement, Security Management, Sustainability & Green Building, Real Estate, etc. He has played a significant role in visiting management colleges and advising students on various aspects of their careers and the corporate world.