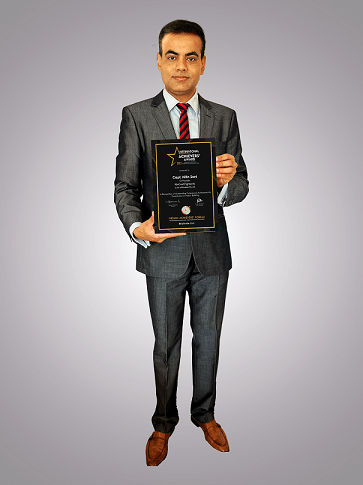 Beginning his career as an Army Officer to becoming an entrepreneur, Capt. Nitin Soni's successful journey stands highly notable
Serving the Nation is the dream of many. One such dream was achieved by Capt. Nitin Soni. He started his career in the Indian Army (Corps of Army Air Defence) as an Officer. After serving the Indian Army for several years, he concluded his journey and in the in the year 2007, he began his professional journey by re-starting his educational journey by getting into an executive program from IIM, Indore; MBA from Amity University (where he was awarded the Silver Medal for his outstanding performance in the academics in the course); M. Com in International Business from IGNOU, and thereafter a lot of management development education from various universities around the world.
Mr. Soni initially began his corporate journey with Tata Chemicals; and later in a global company called AkzoNobel where he held various commercial roles like Business Manager for Asia Pacific, Global Business Development Manager etc. And 2021 marked the new beginning for him as he became the Cofounder of an Australian advanced materials technologies company KinCoat Pigments, a unit of Kinaltek Pty. Ltd. (www.kinaltek.com). At KinCoat, he works on scaling the unique technologies and their products around the world.
Apart from all the business handlings, Mr. Soni is inclined towards the thought of giving back to the society. He is currently the General Secretary of Indian Association in China where he is responsible for the sponsorships. He has also developed a keen interest in Cross Cultural Leadership and international business, and as a result, he occasionally delivers talks on these subjects.  Him being a triathlete, enjoys endurance sports. Mr. Soni presently resides in Shanghai, China and is involved in learning Chinese and have achieved Intermediate level (HSK3 qualified) so far.