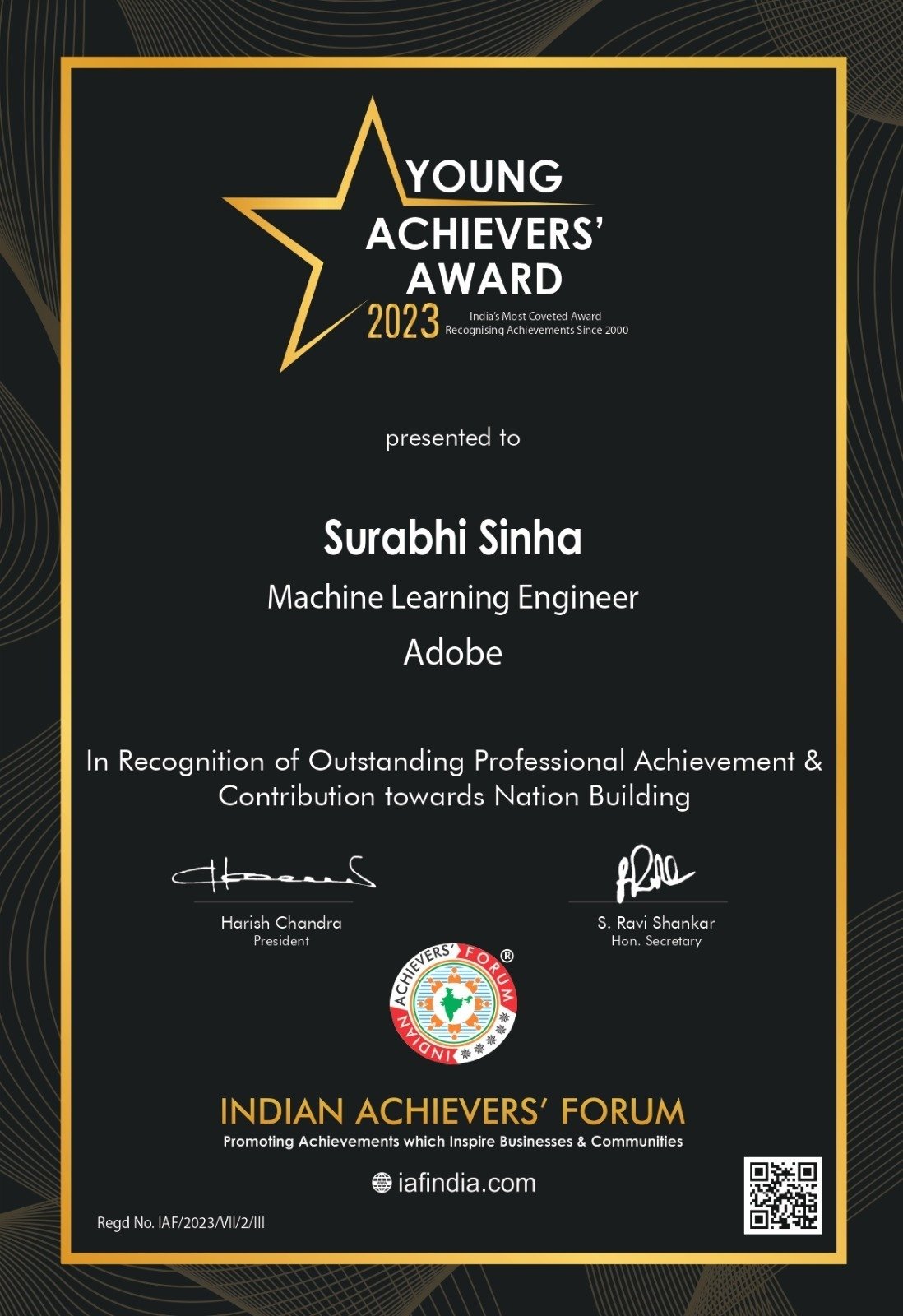 Transforming tech and innovation through Generative AI
With over six years of experience in the ever-evolving realm of machine learning and AI, Surabhi Sinha is a machine learning engineer currently working in the fascinating domain of generative AI at Adobe, a Fortune 500 company. Her journey has been a dynamic fusion of innovation, technical prowess, and a relentless pursuit of excellence.
She has contributed in the domain of generative AI to various flagship products embraced by millions of creators and professionals across the globe. In the pursuit of crafting state-of-the-art solutions, she has filed patents in the area of optimizing generative AI.
She has been invited as a keynote speaker to share her insights on optimization in the domain of generative artificial intelligence. Additionally, she has also been invited to be a judge for industry awards like Globee and has been invited to join Criya's expert circle, an exclusive community where experts may share their experiences and build a strong professional brand.
Additionally, she has been invited to judge numerous national and international peer-reviewed conferences. Her commitment to research in AI is further highlighted by her role in technical program committees, shaping the discourse of emerging trends and innovations.
She has also been invited to serve as a jury member for prestigious university hackathons. Through these platforms, she is passionately dedicated to nurturing the next generation of AI experts, empowering them to tackle challenges with audacity and contribute substantially to the ever-expanding realm of generative AI.
In 2023, she was also presented with the "Top Influential Leaders to Watch" award by the World Data Congress, due to her efforts in driving transformation and making a substantial impact on the world of technology.
Surabhi's commitment to technological innovation, leadership, mentoring, and sustainable development shows that she is always working to make the world a better place for everyone.