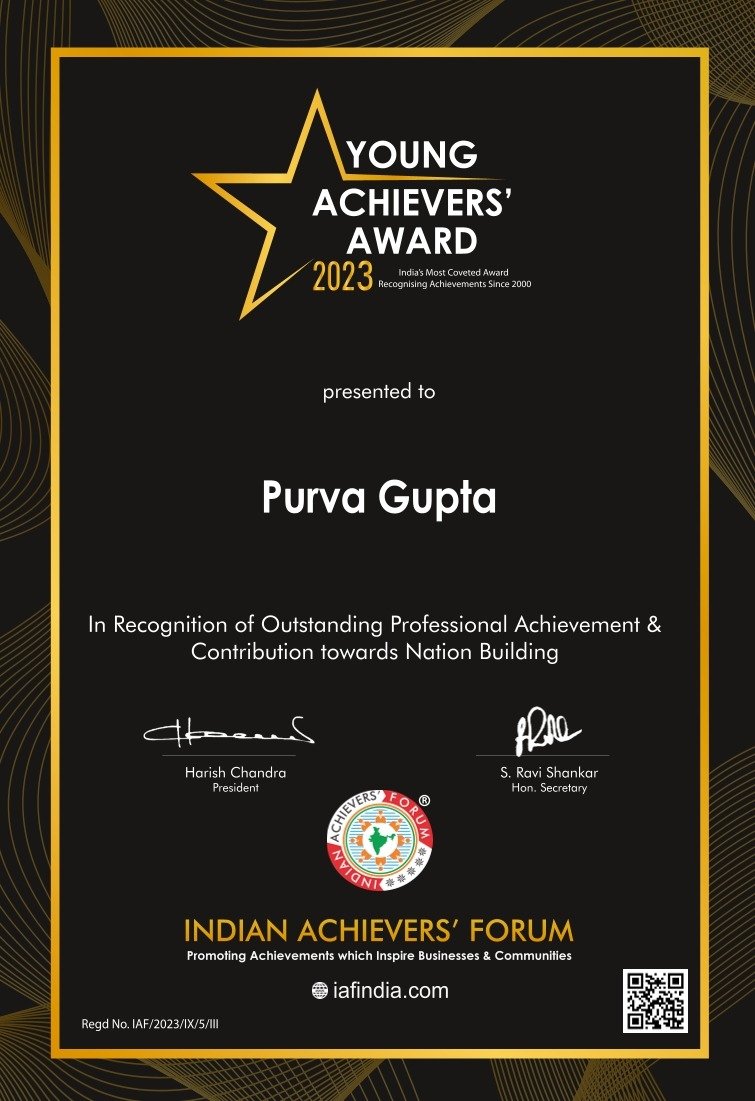 Guiding Youth to Extraordinary Success Through Inspiration and Wisdom
Purva Gupta is a multifaceted professional with a distinguished career spanning six years, characterized by her invaluable contributions in the realms of strategy, operations, and program management within the CXO's Office. Currently, Purva occupies esteemed positions in several Global Advisory Boards and Councils, including DCFA Africa (Women Empowerment), DESC Government of India (National Governing Council Advisor), Mevisha Foundations, and UNACCC (Advisor Central India and National SDG Ambassador). Her expertise has also been leveraged by renowned organizations, including corporate giants like Walmart, Indegene, and Rolta.
Purva's educational journey reads like a global tour of prestigious institutions. She holds qualifications from world-renowned business schools, including Harvard Business School, where she specialized in Leadership & Strategy, and Massachusetts Institute of Technology, where she mastered Design Thinking & Innovation. Her quest for knowledge led her to the University of Oxford, Said Business School (for Women's Leadership), University of California, Berkeley (for Advanced Leadership Education), Wharton (for Business Strategy), Golden Gate University, CA (for Entrepreneurship), Babson College (for Rising in Leadership – Becoming a CEO), IIMB, XLRI (for Leadership & Change Management), and NMIMS. Her quest for continuous learning is evident through her certifications, which include Six Sigma Black Belt professional, Global Chief of Staff, Servant Leadership, Inclusive Leadership, Diversity, Inclusion & Belonging, and Google for Startup.
However, beyond her impressive qualifications and professional accomplishments, Purva Gupta is a source of inspiration for aspiring youth. She firmly believes in the power of perseverance and determination, encouraging individuals to chase their dreams relentlessly. To her, success is the amalgamation of grit and determination, marked by an unwavering enthusiasm even in the face of failures.
Purva's philosophy is built on resilience and faith. She advises not to be disheartened when things don't go as planned, as they may be unfolding according to a divine plan that leads to a greater destiny. She advocates for never settling for less than one deserves and cultivating a passion for lifelong learning. Her day begins with the Serenity Prayer, seeking the wisdom to discern the changeable and the unchangeable.
Purva Gupta aspires to inspire not only the nation but the world with her wisdom and experiences, paying homage to elders and serving as a beacon of inspiration for the youth. Her journey and her words are a testament to her unwavering commitment to personal and professional excellence.
Please feel free to reach out to Purva at-
http://linkedin.com/in/purva-gupta-19a330b0
Email id: purvagupta231@gmail.com