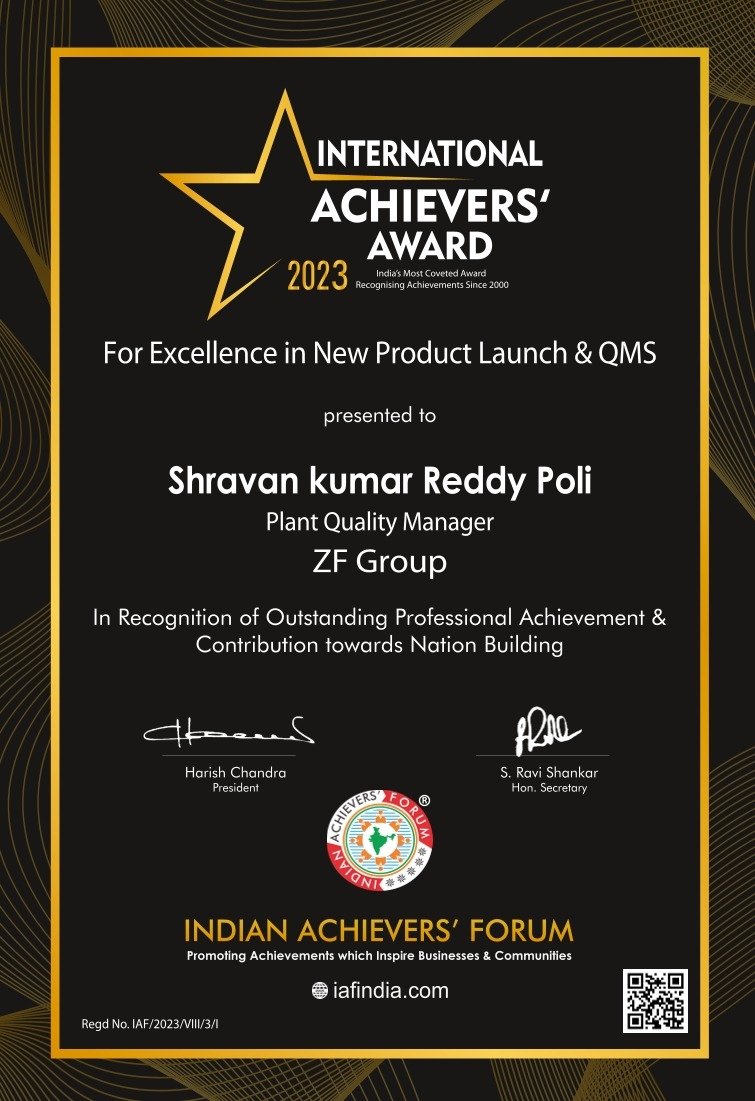 A Journey of Manufacturing Excellence and Quality Leadership
Shravan Kumar Reddy Poli's remarkable 13+ year journey in the Manufacturing industry epitomizes the essence of a transformative leader. Currently holding the position of Plant Quality Manager at ZF Group, his legacy is deeply interwoven with the organization's success story.
Shravan's strategic acumen shone brightly when he orchestrated the implementation of a comprehensive quality management system, resulting in a remarkable 30% reduction in defects. This achievement underscored his unwavering commitment to elevating overall product quality and set new industry benchmarks.
Proficient in Advanced Quality methodologies and skilled in project management, Shravan led successful collaborations with automotive giants like Ford, GM, and Stellantis, overseeing complex New Product Introductions (NPI) and Engineering changes with finesse.
At the core of Shravan's journey lies his astute problem-solving approach, vital in his role as a troubleshooter. Armed with the Eight Disciplines of problem-solving (8D) and rigorous root cause analysis, he tackled production-related challenges, ensuring seamless operations and enhanced customer satisfaction.
Shravan's excellence earned him the prestigious Ford Q1 Status, a testament to his pursuit of excellence aligned with industry benchmarks. His mastery of statistical analysis, demonstrated through GR&R studies, reduced operator variability and lowered scrap rates across various programs.
Beyond technical expertise, Shravan's lean principles optimization led to a remarkable 10% increase in Overall Equipment Effectiveness (OEE) and a notable 20% reduction in non-value-added tasks. His commitment extended to supplier relationships, where he proactively resolved component failure issues.
Backed by a Master of Science in Industrial Engineering and a range of certifications including IATF Internal Auditing, Six Sigma Green Belt, and PMP (Project Management Professional), Shravan continuously pushes the boundaries of excellence in Lean Six Sigma, Digital Manufacturing, Quality Tools, and more.
As a distinguished judge in industry-renowned programs like the Stevie Awards and Globee Awards, Shravan leverages his extensive knowledge to critically evaluate and acknowledge outstanding achievements in the field.
Shravan Kumar Reddy Poli's journey is one of innovation, quality, and progress, leaving an indelible impact on the organizations he serves. His legacy continues to transcend norms, propelling the manufacturing landscape to new heights.