Mr. Shivarudrappa S Biradar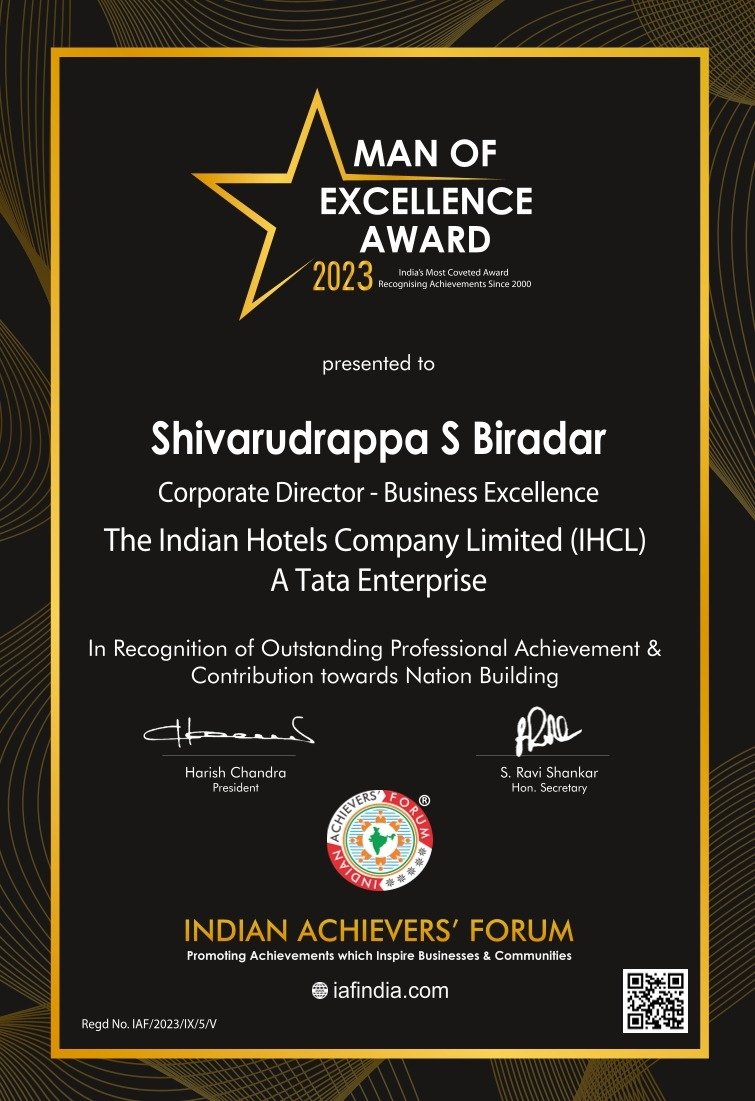 Shivarudrappa S Biradar: Pioneering Business Excellence and Transforming Organizations
Shivarudrappa S Biradar, fondly known as Shiva, is a luminary in the world of business excellence, renowned for his transformative contributions to organizations across diverse sectors. As the Corporate Director of Business Excellence at The Indian Hotels Company Limited (IHCL) and his involvement in Tata Group companies like Tata Power Solar Systems Limited and Voltas Limited, Shiva has left an indelible mark on the pursuit of excellence, quality, and innovation.
With a Master's degree in Lean Operation Management from Alliance Business School in Bangalore and Lean Six Sigma Master Black Belt certifications from the Indian Statistical Institute in Pune, Shiva is equipped with a deep understanding of process optimization and quality management.
Shiva's remarkable career spans a wide spectrum of industries, including solar energy, air conditioning, retail, hospitality, and manufacturing. His 22+ years of experience in B2C, B2B, and B2G sectors demonstrate his adaptability and expertise. He is dedicated to creating safe and profitable business environments while employing problem-solving methodologies to streamline operations.
One of Shiva's key strengths is his passion for leveraging excellence frameworks to drive innovation and achieve strategic goals within organizations. He has a track record of implementing various projects and certifications, including Tata Business Excellence Model (TBEM), Six Sigma, Enterprise Process Management, Continuous Improvement Projects, LASER, and Innovation Projects. Shiva has also introduced an Integrated Management System (IMS) that encompasses ISO 9001, ISO 14001, and ISO 45001 certifications.
Notably, Shiva established "Nirantar Privriddhi," an organizational-level continuous improvement and business excellence framework, focusing on quality assurance, business process management, continuous improvement, innovation, sustainability initiatives, knowledge sharing, and creating value for stakeholders.
Shiva's commitment to innovation is evident in his leadership of initiatives like Tata InnoVista, Tata Ideas, and eHackathon. He prioritizes organizational learning through cross-functional team management, data analytics, business analysis, and studies on customer, vendor, dealer, and partner satisfaction. His implementation of Opportunities for Improvement (OFI) action plans has enhanced operational efficiency and nurtured a culture of excellence.
Throughout his career, Shiva has earned numerous prestigious Business Excellence Awards, affirming his dedication and impact within organizations. His exceptional leadership at Tata Power Solar led to accolades such as the TBEM – Active Promoter Award and the Rama Krishna Bajaj National Quality Award (RBNQA) from IMC-Chamber of Commerce. A crowning achievement was the Global Performance Excellence Award in the "World Class" category from the Asia Pacific Quality Organization.
While at Voltas, Shiva secured TBEM recognition and the "Best Practice Sharing with Tata Group companies" recognition from the Tata Business Excellence Group (TBExG). These honors underscore his pivotal role in fostering a culture of business excellence and continuous improvement.
Shiva's contributions to the Tata Group's pursuit of business excellence extend beyond awards and positions. He has brought transformative changes to organizations, enhancing processes, efficiencies, and the legacy of excellence. His career serves as an inspiration for aspiring professionals, emphasizing that dedication, hard work, and a commitment to excellence can lead to remarkable success and positive change in the corporate world.
Shivarudrappa S Biradar is not just a business excellence leader; he is a visionary who has driven organizations towards sustained excellence, operational efficiency, customer satisfaction, and profitability. His story stands as a testament to the transformative power of leadership in the pursuit of business excellence.