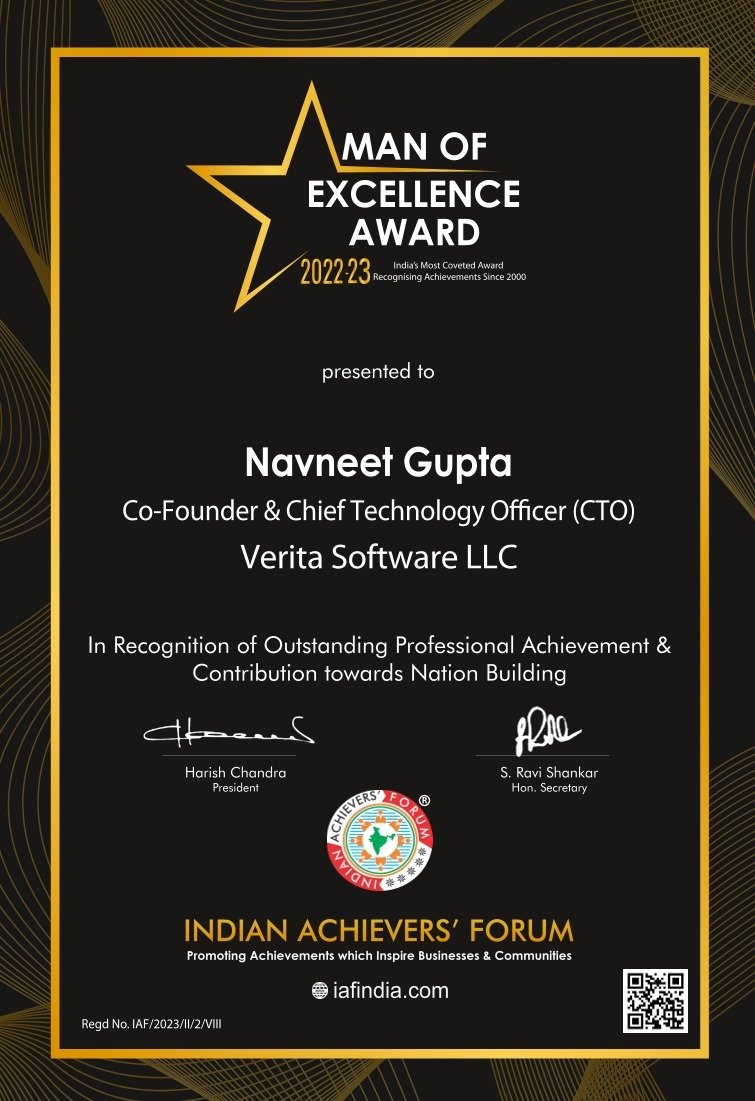 Pioneering Healthcare AI Innovations
Navneet Gupta, Co-Founder & Chief Technology Officer of New York-based Verita Software, has been honored with the prestigious "Man of Excellence" Award by the Indian Achievers Forum (IAF) for his outstanding leadership in pioneering AI-based initiatives within the healthcare industry. These awards recognize leaders who embody exceptional leadership, innovation, and vision, inspiring others to realize their potential.
With extensive international experience across diverse sectors including retail, telecom, e-commerce, and healthcare, Navneet boasts a proven track record of delivering innovative technology solutions rapidly to meet evolving business demands and customer expectations. His impressive IT background and the scope of his responsibilities make him a highly deserving recipient of this accolade.
In his current role, Navneet leads the implementation of an Artificial Intelligence (AI)-based next-generation IT solution designed to assist clinical providers in diagnosing, selecting treatments, and monitoring patients, thereby enhancing the accuracy and efficiency of healthcare delivery.
Navneet states, "The current healthcare ecosystem, while capable, remains fragmented and lacks comprehensive data connections and contextual understanding. AI and machine learning are poised to revolutionize medicine by introducing assistive technologies that empower doctors to better serve their patients."
As a visionary leader, Navneet also serves as the Chief Information Officer (CIO) at Middletown Medical, PC, a leading multi-specialty healthcare practice spanning 30 locations in New York's Orange County region. Here, he guides the digital and technological transformation efforts to align with and support the organization's strategic objectives, optimizing the IT department's operations and facilitating digital change.
With a career spanning over 23 years, Navneet has held senior leadership roles at globally renowned enterprises such as Tech Mahindra, Sinch AB, FranConnect, and Apptio. He has garnered numerous accolades as a distinguished IT leader and has been featured in respected publications, including Forbes, International Business Times, and Tech Times.
Navneet Gupta earned his Bachelors of Engineering in Computers from the esteemed Delhi College of Engineering. Additionally, he serves as an Advisory Board Member for the Customer Experience Certificate Program at Ithaca College in New York. Navneet's dedication to advancing AI in healthcare and his contributions to the field underscore his well-deserved recognition as a "Man of Excellence" in the industry.