Mr. Krishnakumar Sivagnanam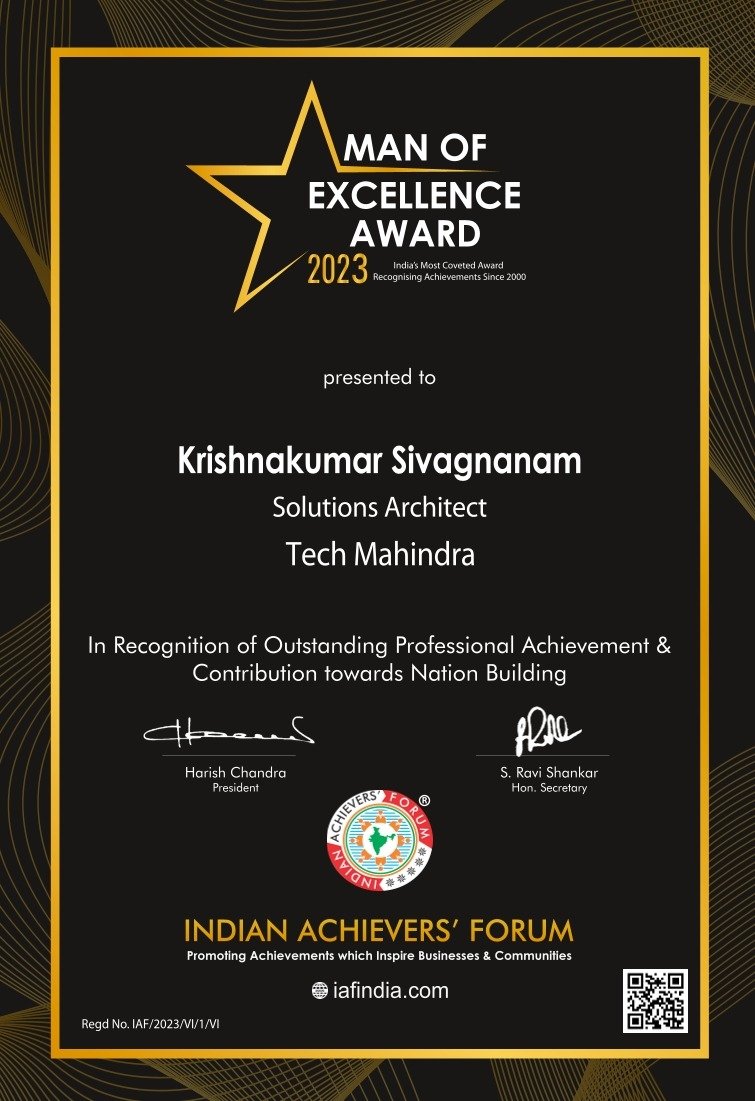 A Visionary Leader Shaping the Future of ERP and GRC in IT
Krishnakumar Sivagnanam, a seasoned IT professional with an impressive two-decade career, has emerged as a prominent figure in the realms of ERP and GRC within the Supply Chain and Manufacturing sectors. Currently serving as a Solutions Architect at Tech Mahindra (Americas) Inc., Krishnakumar has carved a distinct journey marked by his leadership and innovative spirit.
Throughout his illustrious career, Krishnakumar has held leadership positions in prestigious IT consulting firms, guiding innovative solutions, and driving transformative efforts in application modernization and automation. His influence and contributions have extended to renowned consulting firms, where he played pivotal roles in leading groundbreaking solutions and spearheading automation initiatives for Fortune 500 clients. Krishnakumar's unwavering passion revolves around harnessing the potential of disruptive cloud, ERP, and web technologies, strategically underpinned by robust GRC frameworks.
Proficient in Microsoft Azure Cloud, Krishnakumar orchestrates seamless migrations that enhance scalability and bolster security measures. His expertise spans the domains of RDBMS, ERP, and GRC, culminating in the development of robust systems equipped with automation capabilities. Beyond technical prowess, Krishnakumar's enthusiasm gravitates toward performance optimization, productivity enhancement, and prudent cost management.
In addition to his professional accomplishments, Krishnakumar is an enthusiastic contributor to the IT community. His writing has graced reputable platforms, including publications in "Seamless Integration: How ERP and GRC Enhance HR Enterprise Application Implementations" in Workforce Solutions Review (WSR) and the International Association for Human Resource Information Management (ihrim.org) journal. He has co-authored impactful research articles such as "Analysis of Breast Cancer Prediction Using Multiple Machine Learning Methodologies" in the International Journal of Intelligent Systems and Applications in Engineering (ijisae.org) and "Pipeline-Generated Continuous Integration and Deployment Method for Agile Software Development" in European Chemical Bulletin (eurchembull.com). Krishnakumar's literary pursuits also encompass plans to pen books on topics spanning Data Science, ERP, GRC, and Web Applications.
Beyond the literary realm, Krishnakumar is a valued member of judging committees for prestigious awards, including the Globee (Information Technology, Leadership, Disruptor, Golden Bridge, Business, American Business) Awards and the Stevie International Business Awards for Information Technology. He lends his expertise to the discerning evaluation of entrants in the innovative HackMIT, one of the world's largest hackathons held at Massachusetts Institute of Technology, Cambridge, MA, USA. Notable accolades adorn Krishnakumar's journey, with titles such as IT Professional of the Year at the Globee Information Technology Awards and Technical IT Professional of the Year at the Globee Golden Bridge Awards. His contributions have not gone unnoticed, as evidenced by the esteemed Man of Excellence Award bestowed upon him by the Indian Achievers' Forum.
Krishnakumar is an IEEE Senior Member and Fellow RSA member, a testament to his exceptional contributions. He maintains active memberships in renowned professional organizations including the Project Management Institute (pmi.org) and the International Association of Engineers (IAENG). His role as an advisory board member of Contact Center World speaks to his influence and expertise. Krishnakumar's extraordinary ability, honed skills, spectrum of knowledge, analytical and business acumen, fervent commitment have culminated in tailored solutions that propel organizational growth and extend to the broader IT community. Holding a Master of Computer Applications (MCA) and a Bachelor of Science in Computer Science from Bharathidasan University, India, he contributes his knowledge as a mentor at adplist.org.