Mr. Deep Manishkumar Dave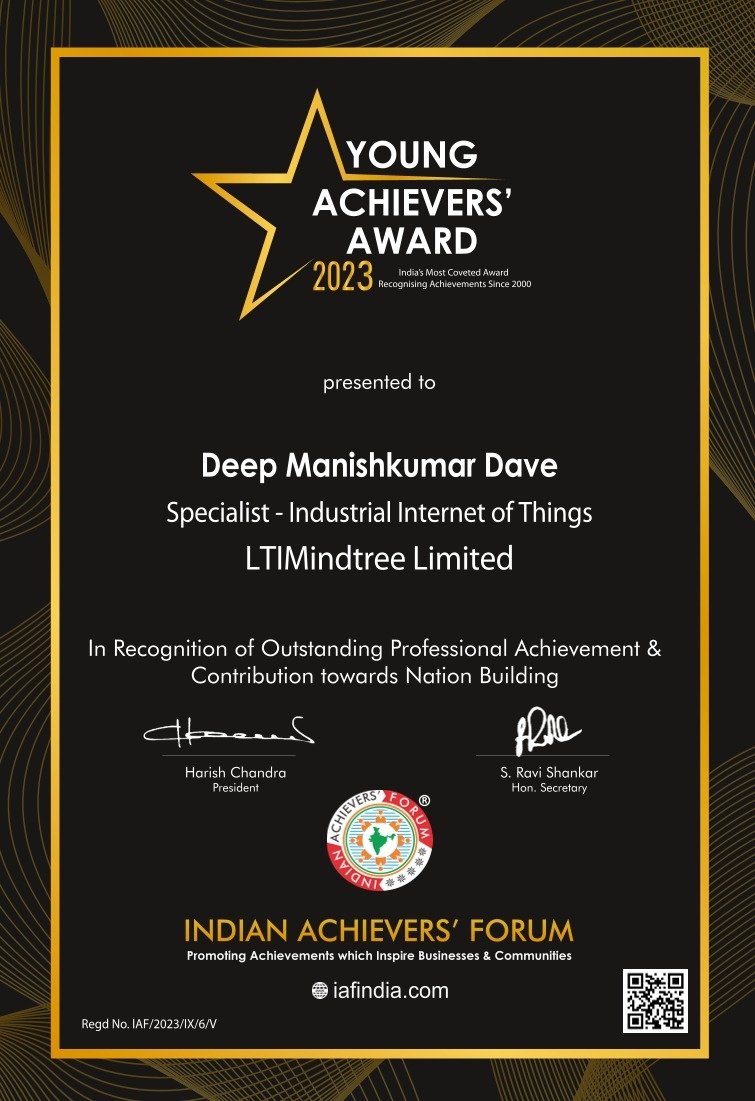 Leading the Change in Digital Transformation and Industrial Internet of Things
Deep Manishkumar Dave is a Digital Transformation Leader with a strong background in Industrial IoT and a remarkable commitment to staying at the forefront of emerging technologies. As a professional member of the Intelligent Automation Congress (IAC) and the Institution of Engineering and Technology (IET), Deep brings a wealth of experience and expertise to the table. With over five years of experience as a Specialist Industrial IoT Engineer at LTIMindtree, he has been actively involved in driving digital transformation and Industrial IoT initiatives in the manufacturing sector.
Deep's academic background includes a Bachelor's in Mechatronics Engineering and a Master's in Engineering Management. This foundational knowledge has been further enriched by hands-on experience in deploying advanced technologies, such as Industry 4.0, Artificial Intelligence (AI), Smart Manufacturing, Industrial Automation, and Analytics Platforms. He has pioneered notable advancements in digitally driven manufacturing, particularly in the medical device domain. His proficiency in IIoT transcends mere technical integration, evolving into a holistic, data-centric strategy that permeates every stage of production, ultimately revolutionizing manufacturing processes to be not only efficient but also predictively intelligent.
Deep's engagement with IT System Reliability extends beyond mere application and infrastructure enhancement, entwining them into a symbiotic relationship that ensures digital touchpoints are not just resilient but seamlessly align with pivotal business objectives. His rich journey, pivoting around substantial roles at LTIMindtree and Johnson & Johnson's Depuy Synthes Orthopedics Division, uniquely positions him to impact the next generation of professionals. He aspires to unlock a conduit of knowledge sharing, where his experiences, insights, and innovative approaches can catalyze the professional evolution of growing talents in the industry.
As a committed member of the IEEE and with his experience in the healthcare/medical device life science sector, Deep has cultivated a deep understanding of the intricate interplay between digital transformation and industrial automation. His proficiency lies in devising comprehensive digital strategies that optimize business processes, yielding remarkable outcomes in this dynamic sector. He has authored a diverse range of articles, exploring the intersections of Industry 5.0, supply chain digitization, predictive maintenance methodologies, human-robot collaboration, and other pertinent topics. Notably, his published papers include:
Neural Manufacturing: The Future of Intelligent Production
Advancing Medical Device Manufacturing: The Convergence of Edge Computing and Industry 5.0
Advancing Resilience and Agility in Manufacturing through Industry 5.0: A Review of Digitization, Automation, and Advanced Analytics
Revolutionizing Medical Device Implants: Unleashing the Power of Industry 5.0
These contributions to the field have provided Deep with a unique perspective on cutting-edge technologies and their practical applications.
Furthermore, Deep has acquired invaluable experience as a reviewer for respected journals. These reviewing experiences have honed Deep's ability to meticulously assess technical difficulty, research methodology, novelty of ideas, and alignment with the field. He is dedicated to leveraging his multifaceted industry and academic insights to provide constructive feedback that encompasses theoretical depth, methodological robustness, technical nuances, presentation quality, and potential real-world impact. His unwavering enthusiasm for emerging technologies and their role in fostering innovation seamlessly aligns with the mission of disseminating pioneering research.
With 12 LinkedIn Community Top Voice badges, serving as a judge in the Globee Business & Leadership awards, being elected as an AI ambassador at AI Time Journal, and being a Top 1% Contributor in LinkedIn collaborative articles for Digital Transformation, Internet of Things (IoT), and Artificial Intelligence (AI) – Deep is an influential figure on LinkedIn, who actively educates the community with thought-provoking content. His multifaceted expertise, contributions to research, and commitment to knowledge sharing make him a valuable asset to any organization or community striving to stay at the cutting edge of technology and innovation.