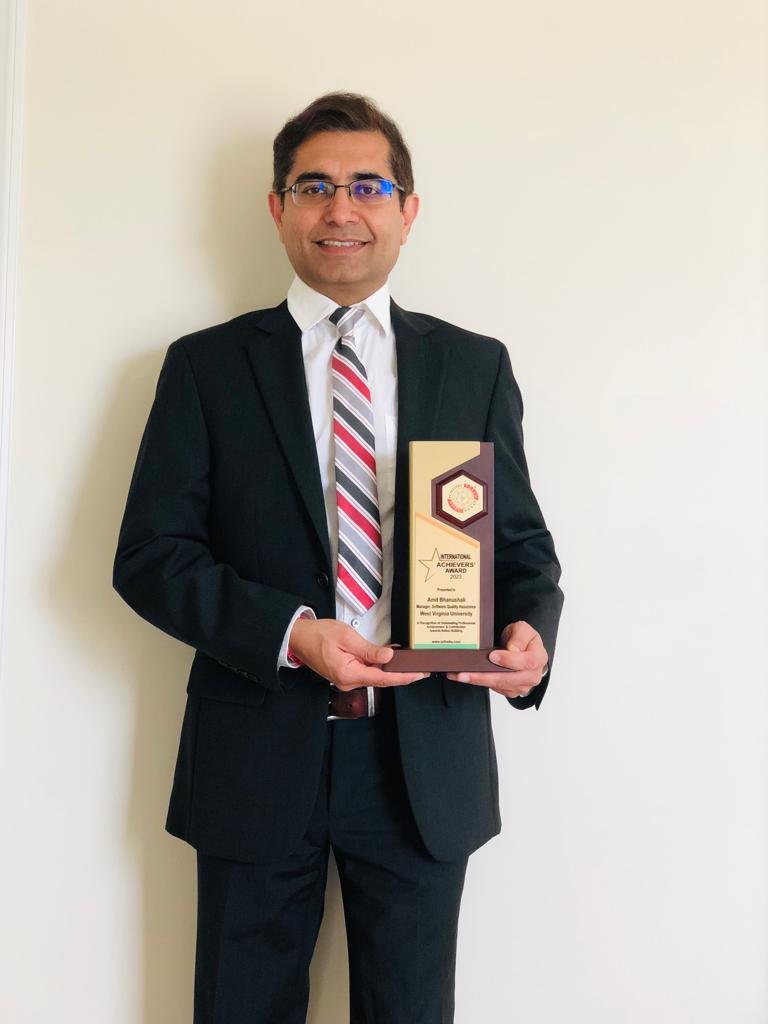 A Visionary Leader and Innovator in IT: Amit Bhanushali's Remarkable Journey
Amit's journey as a seasoned Technical Manager spans an impressive 22 years, during which he has exhibited a remarkable commitment to excellence. His expertise, particularly within the Banking, Financial Services, and Insurance (BFSI) and Higher Education sectors, positions him as a true luminary in the industry. Amit's proficiency traverses the entire software development and testing life cycle, showcasing his mastery in areas such as Automation Testing, Performance Testing, and adept navigation of complex DevOps and CI/CD landscapes. His expertise extends to the intricacies of Cloud technologies, further solidifying his reputation as a technical virtuoso.
Educationally empowered with a master's degree in business data Analytics from West Virginia University, Amit seamlessly integrates academic insights with practical know-how. This unique synergy is evident in his collaborations with Fortune 500 companies, where his industry acumen has left a lasting impact.
Amit's influence extends beyond individual expertise, as he orchestrates global and intricate projects with finesse. His adept management of multi-year, multi-stakeholder programs exemplify his leadership prowess. Fueled by a diverse technical background, Amit brings innate problem-solving skills and innovative project management aptitude to the forefront. His global team management finesse culminates in delivery excellence and the cultivation of enduring client relationships.
An embodiment of research-driven excellence, Amit's journal articles enrich his domain and elevate the standards within it. His commitment to nurturing the next generation of professionals is evident through his coaching and mentoring efforts, reflecting a noble ethos. In roles such as Agile Coach and Senior Scrum Master, Amit molds high-performing teams, blending meticulous attention with empathetic leadership.
Amit's impact within the dynamic realm of Information Technology is immeasurable. His reputation as a visionary leader, innovator, and expert, especially within the BFSI and Higher Education domains, sets him apart. His expertise spans a diverse spectrum, encompassing Quality Engineering integrated with Data Analytics, AI, and machine learning.
In his role as the Quality Assurance Manager at West Virginia University, Amit's leadership has driven projects of paramount significance to success. His innovative solutions and strategic insights have not only improved education quality but also substantially reduced costs. Beyond the confines of his professional role, Amit's dedication to Quality Engineering led to the creation of the Qahub.pro platform, a testament to his commitment to knowledge dissemination and fostering growth in the field.
Amit's impact transcends organizational walls, as evidenced by his roles as a mentor on ADPList, a judge on the Globee Awards of Business and Awards for Leadership, and a sought-after speaker at industry events. His insightful presentations, fortified by extensive experience, resonate with audiences, fostering inspiration and education. He actively contributes to academic discourse as a paper reviewer, solidifying his commitment to technological evolution.
As a prolific author, Amit's contributions to media publications, articles, and journal papers paint a vivid picture of his expertise in Quality Analysis using Machine Learning. His writings illuminate the latest trends, advancing the knowledge frontier and underscoring his role as a thought leader. Amit Bhanushali's journey serves as a beacon of passion, expertise, and commitment to change, leaving an indelible mark on the field of Computer Science.
In recognition of his outstanding contributions to the Information Technology landscape, Amit Bhanushali has been honored with the prestigious Innovator of the Year award at the Globee Business Awards 2023. This accolade underscores his visionary leadership, transformative initiatives, and unwavering commitment to driving innovation in the IT sector.
Amit Bhanushali's journey encapsulates the spirit of innovation, leadership, and transformation. His tireless dedication to the IT landscape's growth and his profound impact on both industry and education are undeniable testaments to his exceptional achievements. Amit Bhanushali is truly deserving of the International Achiever Award, celebrating his legacy of excellence and inspiration.