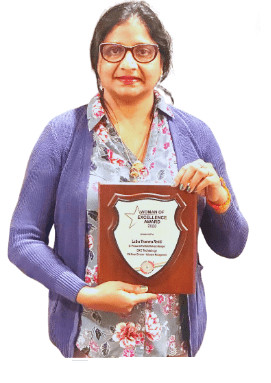 A Trailblazing Digital Transformation Leader and Industry Pioneer
Latha Thamma Reddi stands as a paragon of excellence in the realm of finance and technology. A seasoned Digital Transformation Leader with over two decades of experience, she has achieved remarkable success in enterprise-wide transformations and process engineering across diverse sectors, including Finance, Banking, Healthcare, Insurance, and the Hospitality Industry. Her leadership has steered cross-functional teams of 500 professionals across the globe, resulting in outstanding accomplishments.
Latha's illustrious career boasts involvement in over 50 SAP-enabled initiatives, comprising 18 full lifecycles, numerous global rollouts, mergers and acquisitions, and operational efficiency enhancements. Her academic achievements are equally impressive, holding dual master's degrees in business administration with a specialization in Finance and a Master of Commerce, accompanied by a remarkable tally of 18+ professional certifications in the Information Technology field.
At the forefront of Digital Transformation, Automation, and Innovation, Latha emphasizes cutting-edge technologies like Artificial Intelligence and Machine Learning. Her strategic approach to Automation and Innovation focuses on client well-being and consistently delivers annual cost savings through process optimization, ranging from an impressive 15% to 25%. She maintains an exceptional stakeholder collaboration rate of 95%, a testament to her leadership prowess. Her numerous accolades include the Woman of Excellence award from the Indian Achievers Forum and the prestigious Global Achievers Award 2023.
Latha's vision extends to training professionals globally, with a particular focus on remote rural areas, fostering individual growth and contributing to nation-building. Her mentoring efforts have positively impacted over 200 IT professionals across nine countries, earning her recognition as a top 1% Product Mentor within a reputable mentoring organization.
Latha's contributions also encompass the transformation of outdated Project Procedures Manuals for organizations like DXC and Sabre Client. She has established robust enterprise project portfolio governance, enhancing transparency, accountability, and decision support for executive leadership.
Currently, Latha serves as a Board Director for the Project Management Institute Global Organization's Fort Worth USA Chapter and as an Advisory Board Member for ContractCentreWorld Global Organization. Her esteemed accomplishments include fellowship honors from IETE, RSA, and SASS, Senior Membership in the Institute of Electrical and Electronics Engineers (IEEE), and memberships in prestigious professional bodies such as BCS and IET. She also serves as a Financial Advisory member for notable startups.
In the worlds of finance, technology, and leadership, Latha Thamma Reddi shines as an industry pioneer, driving innovation, transformation, and mentorship with unwavering dedication and expertise.
Latha's commitment to excellence extends to her role in assessing profiles of over 500 distinguished entrepreneurs, executives, and experts in prestigious organizations, including Stevie, Brandon Hall, Codie, Globee, ISEF, and NCWIT, further highlighting her significant impact on the tech industry.
Her contributions are not limited to the professional sphere; Latha has published multiple scholarly articles in high-impact factor international journals as an independent researcher, gaining recognition from global media outlets that validate the profound impact of her work. Additionally, she has authored and Coauthored in several books.
Latha has always embraced challenges with unwavering determination, embodying the essence of a true female technology automation leader. Her commitment and expertise have been instrumental in propelling innovation and progress in the field.